If you're reading this, you are probably considering selling your home in the enchanting enclave of Springbank Hill, Calgary. As you must know, getting your home ready for today's competitive real estate market demands thoughtful preparation and sound judgment. We aim to provide you with information to help you prepare for upcoming open houses or buyer showings, to underscore the significance of choosing the right real estate agent and even suggest going through this process with one of Calgary's best real estate agents in Springbank Hill.
We will also provide you with well-prepared and expertly presented home trends to sell more quickly and at a higher price than homes that have not been properly prepared for the market. But before we go through all the information, let's do a quick rundown of some tips you must note for this process to be hassle-free.
Tips for Home Sellers: Preparing Your Springbank Hill Home for a Successful Sale
Selling your home can be an exciting but challenging endeavour. Making a great first impression is crucial to attracting potential buyers and maximizing the value of your property. Here are some essential tips to help you prepare your home for the competitive real estate market:
Pet-Friendly Showings:

During house showings, it's best to remove pets from the premises. This not only avoids potential allergic reactions but also prevents any fears or discomfort that may arise in sensitive buyers due to pet odours or the presence of animals.

Neutral Decor: When decorating your home, aim for a non-denominational look. This ensures that your space appeals to a broad range of potential buyers and doesn't distract or alienate them.
Property Inspection: Before listing your home, conduct a thorough inspection. Look for any issues like mould, water damage, or other visible problems that may deter buyers. Addressing these concerns in advance can save you headaches during negotiations.
Safety First: Ensure that your smoke and carbon monoxide detectors are in working order. Comply with local laws and regulations, as requirements can vary from one area to another.
Older Homes and Hazards: If you own an older home, be aware of the potential presence of asbestos or lead-based paint. Addressing these issues early on can save you from surprises during the selling process.
Updates and Repairs: Take an objective look at your property and make a list of necessary updates and repairs. Prioritize improvements that fit within your budget and timeline. Focus on fixtures, windows, trims, baseboards, and wall repairs. Also, prioritize the kitchen and bathrooms.
Pre-Packing and Decluttering: Organize and pre-pack items that you don't use regularly. This creates a sense of spaciousness that appeals to buyers. A clutter-free environment allows them to envision their future in your home.
Fresh Paint: A fresh coat of paint can work wonders in giving your home a new lease on life. Opt for neutral colours to help potential buyers emotionally connect with the space.
Main Selling Rooms: Consider which rooms are most important to potential buyers. Pay special attention to the foyer, kitchen, living room, dining room, family room, and master bedroom. Highlight their features and functionality.
Furniture and Lighting: Proper furniture placement and adequate lighting are essential to showcase each room's potential. Ensure that all lights are on during showings, and consider dimmer switches to set the right ambiance.
Flooring: Updated flooring is a top-selling feature. Evaluate your carpet's condition or style, and consider replacement or professional cleaning. If you have hardwood floors, showcase them by removing carpets and refinishing them if necessary.
Curb Appeal: First impressions matter. Enhance your home's curb appeal with necessary repairs or improvements to roofing, siding, and lighting. Seasonal arrangements and well-maintained walkways make a difference, especially in snowy climates.
Depersonalizing: Create a neutral canvas for potential buyers by removing personal items like family photos, trophies, and awards. Prepack any items that could be considered offensive.
By following these tips and presenting your home properly, you'll attract serious buyers and increase your chances of receiving top-dollar offers. In a competitive market, attention to detail can make a significant difference in achieving your desired sale price.
Full Pre-Listing Checklist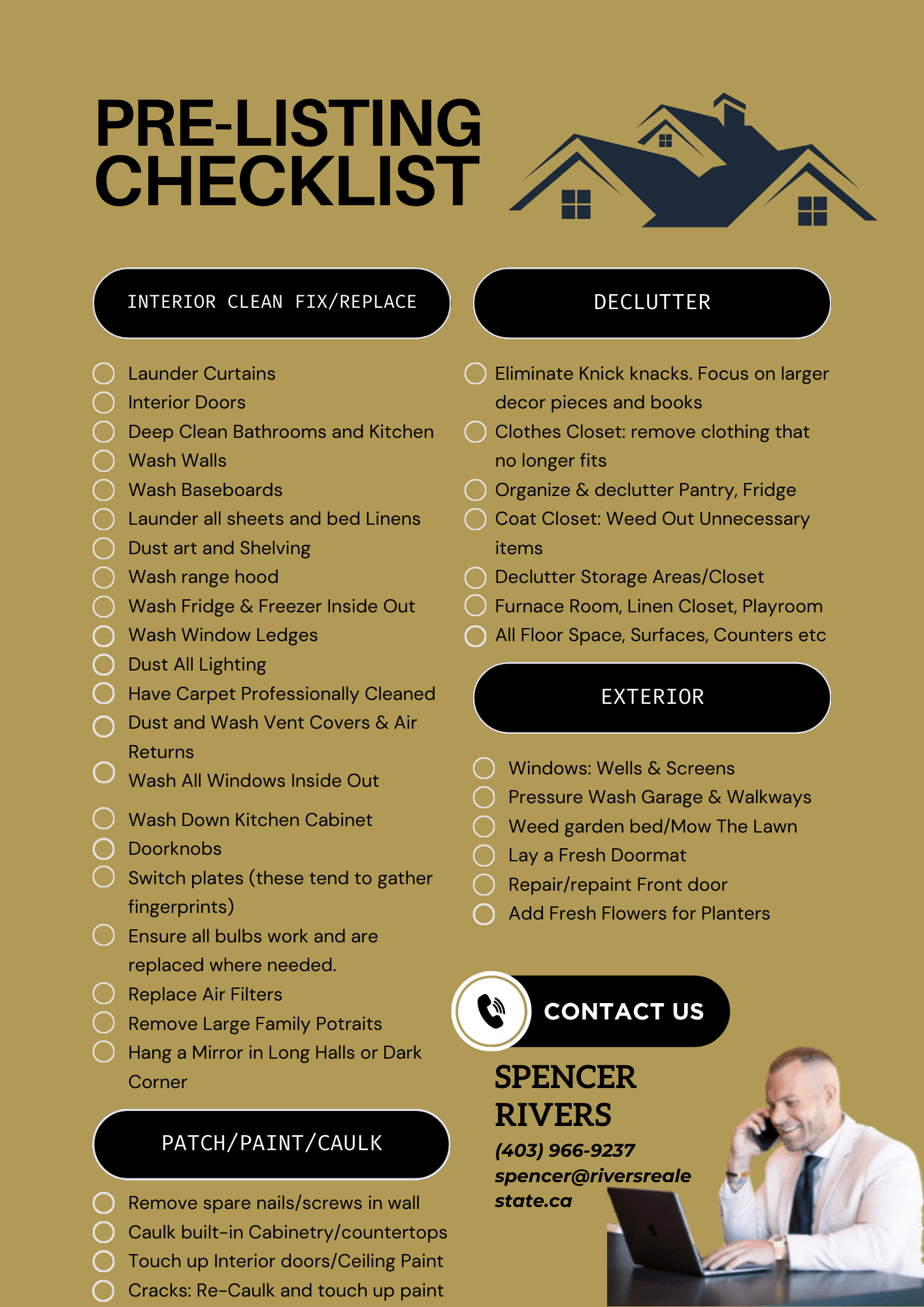 Now, let's go into the business of selling your Springbank Hill home.
Why You Need a Real Estate Agent
Selling a home involves a lot of moving parts, and this is where a savvy real estate agent comes in. Think of them as your secret weapon – they bring the knowledge, the market know-how, and some pretty impressive negotiation skills to the table. They'll make sure your home is priced just right and marketed like a superstar among all the houses for sale in Springbank Calgary, and they'll guide you through the entire process with grace.
Meet Spencer Rivers: Your Springbank Hill Expert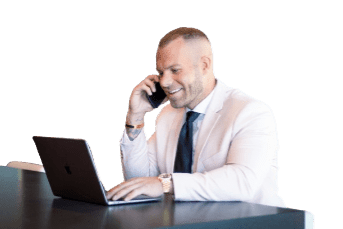 Let's introduce you to Spencer Rivers. This real estate pro knows Springbank Hill like the back of their hand. With a proven track record of successful transactions, Spencer is the real deal when it comes to Springbank Hill homes for sale in Calgary.
Selling your Springbank Hill home with Spencer of Rivers Real Estate will almost feel like a piece of cake. He'll kick things off by helping you price your property just right, taking into account all those market trends and local insights. And the best part? He's got a knack for making your home look like a million bucks, thanks to professional staging and top-notch photography. When it comes to homes for sale in Springbank Hill Calgary, Spencer knows how to make yours shine.
Success Stories and Happy Clients
His dedication and skills have made many sellers very happy, and they've got the testimonials to prove it. Just read what these folks had to say; Click to See Reviews
Pricing Your Springbank Hill Home
Getting the price right is key in the Springbank Hill market, here's a quick way to find your home's worth. In addition, Spencer will work closely with you to figure out the perfect listing price for your home, making sure it attracts those eager buyers. When it comes to Springbank Hill real estate, we guarantee that Spencer Rivers is your trusted partner.
Find Your Home's Worth: Get Instant Home Valuation Here
Marketing Your Home
Beyond getting the right price for your home, Spencer's marketing game is strong. Spencer and his dedicated team at RiverHawk Homes will use all the offline and online tools, top-notch photography, and open houses to give your property the attention it deserves. Your home will truly stand out among the many houses for sale in Springbank Hill Calgary.
The Selling Process Timeline
Curious about how things will unfold? Selling your Springbank Hill home follows a pretty clear timeline, and Spenser will be your guide every step of the way. From listing to showings and closing, they've got your back. Your journey in Springbank Hill houses for sale will be smooth sailing.
Ready to Make a Move?
Selling your home in Springbank Hill is a significant decision, and choosing the right real estate agent can make all the difference. Spencer Rivers is one of Calgary's top real estate agents in Springbank Hill offering unparalleled expertise and a track record of success in the Springbank Hill market. With their guidance, you can confidently embark on this exciting journey, knowing that your property is in the capable hands of the best real estate agent in Springbank Hill.
Whether you're eyeing Springbank homes for sale in Calgary or you're ready to say goodbye to your current abode, Spencer is the real estate agent to partner with. Don't miss out on working with the best real estate agent in Springbank Hill. Your dream sale is just a phone call away.