There are a lot of myths and false beliefs that circulate about Chestermere, which is located in Alberta. Some people get the impression that the location is a sleepy little town that offers little in the way of culture or nightlife.
Some people may argue that there is an inadequate amount of flat ground and an excessive number of hills, making biking and walking difficult. But Chestermere isn't your typical run-of-the-mill suburban town at all!
It is not very busy, and the prices are reasonable in comparison to the number of amenities, services, and entertainment options it offers. And if you're someone who finds solace in the great outdoors, you've come to the right place!
In the following paragraphs, we will discuss the advantages of living in Chestermere, as well as the reasons why you should seriously consider making a move there. So, without further ado, let's get the ball rolling here, shall we?
Good for starting a family
The vast majority of people who live in Chestermere are in the process of starting or growing their own families, which results in an abundance of resources and opportunities for children.
For instance, in the most recent years, there has been an increase in the number of schools and kindergartens created in order to meet the requirements of the locals.
In addition, Chestermere provides all the room that children require to build a healthy lifestyle and grow up in a secure environment. Due to the fact that the town is smaller, there is also less traffic, which means that you are free to let your children walk to school or free play in the neighbourhood.
Children can have access to a wide variety of learning and development activities without having to be overly concerned about travel or their own safety.
Lots of space
The abundance of available space is perhaps one of the most appealing aspects of Chestermere. Everyone has more room to develop and disperse themselves when there isn't the huge traffic of a massive metropolis.
Even if you live in the most remote part of town, you'll still have a pleasant commute because it won't take you more than a few minutes to get to where you need to be.
As a result of the abundance of public parks, getting some fresh air and exercise with your family is quick and easy.
It won't take you very long to get there, regardless of whether you're heading to the store or getting something to eat. And on the weekends, all of that verdant open space makes it possible for anyone who wants to spend hours engaging in outdoor sports and pastimes.
A calm and soothing environment
The atmosphere of Chestermere may best be described as laid back and welcoming. The people that live here come from a wide variety of different backgrounds, both culturally and racially.
You get to experience the advantages of community living without having to deal with the overcrowding and stress that comes along with life in a large metropolis.
The residents of Chestermere make their neighbourhood a vibrant and giving place to live. Because they are always willing to assist, you will never be left to fend for yourself in the event that you require assistance in completing a task.
On the other hand, it's not as if everyone is always on your neck, so don't worry too much about it. It is not difficult to strike up talks with newly arrived neighbours or to go for relaxed strolls throughout the neighbourhood.
This is a peaceful and straightforward way of life that you won't find anywhere else; from the ambiance of a quaint tiny town to the stunning scenery, it's hard to imagine living any other way.
Lots of fun things to do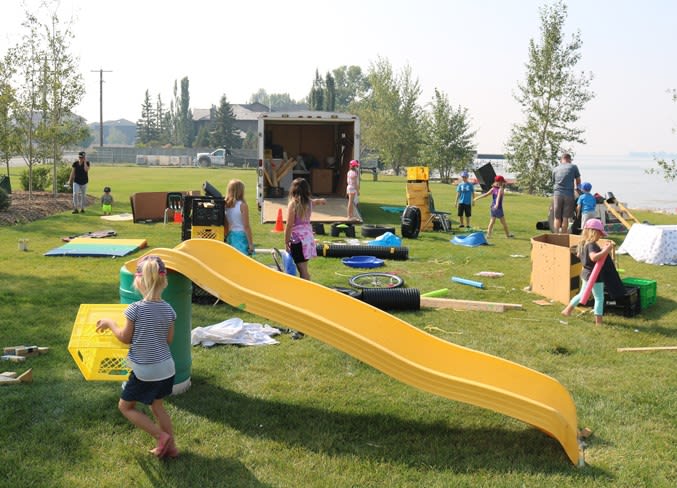 If you enjoy having a variety of activities available to you, Chestermere could be the perfect place for you to call home. Even though the town is not very large, there is a good selection of eating establishments, coffee shops, and supermarkets to pick from.
In addition, there are a lot of local attractions within a short distance, such as beaches, family entertainment centers, and hiking trails.
The library is, without a doubt, one of the most attractive public buildings. You are not only able to borrow books, but there is also an extensive collection of DVDs, video games, and other entertaining things to do.
You may even pick up a new talent or language in your spare time! There are activities geared toward children available in the library, and adults may participate in a book club.
And just in case you were unaware, the magnificent city of Calgary is located just to the west of Chestermere.
That means you won't have to put up with the difficulties that come along with living in a bustling city since you'll have access to all of the greatest things the city has to offer.
Chestermere Lake
Chestermere Lake is the primary reason why so many individuals choose to make their home in this community. You may go swimming, ride your bike, or just take a leisurely stroll at one of the many beaches or playgrounds in the area.
Good news for all of you who are true enthusiasts of water sports! The lake is noted for being very clean, which contributes to the popularity of sports like swimming and canoeing there. There are also docks available, where you can tie up your boat or jet ski so that you can spend a day out on the sea.
Even though there are a lot of fun things to do during the summer, a lot of people visit the lake throughout the winter as well.
Snowmobiling and ice skating are popular wintertime activities, and the snow-dusted trees help to create a picture-perfect winter landscape. And if winter is your absolute favourite season, there is even better news in store for you!
To participate in any of the exciting winter activities that Calgary has to offer, all it takes is a quick journey across the bridge.
Nature
Residents of Chestermere tend to be outdoorsy types. This town is quite stunning to look at because of its rolling hills covered in forest, its verdant grassland, and its big lake.
There is nothing quite like taking in the crisp, clean air while walking your dog first thing in the morning or enjoying a peaceful picnic in the evening after a long day of work.
In addition, Chestermere is home to a large number of parks, many of which are located in close proximity to Chestermere Lake.
The watercraft rentals and children's playground at John Peake Memorial Park are two of the park's most popular features. In the meanwhile, other nearby parks, such as Anniversary Park, are simply wonderful places to unwind and go swimming in the lake.
Close vicinity to Calgary
Because of its convenient proximity to Calgary, Chestermere is a wonderful place to call home. Shopping and a variety of other forms of entertainment are just some of the options available to you in Calgary.
You can reach the large metropolis in about half an hour by car, and it offers everything that you could possibly desire. And if you're anything like the majority of people, you probably adore living in the town where you do, but you also have to commute into the city for employment or other reasons.
The location of Chestermere is fortunate in that even a short commute won't be an issue because it is so near. If you live in the correct neighbourhood, getting to all of these wonderful sites requires nothing more than a quick drive over the bridge.
This is because the bridge connects two neighbourhoods that are only a short distance apart. Because major thoroughfares such as Highway 1, Highway 1A, and Stoney Trail are all located in close proximity to one another, you will have easy access to all locations.
You will thus always be close to Calgary, whether it is for the purpose of shopping, dining out, or working.
Golf
In conclusion, enthusiastic golfers will be pleased to learn that Chestermere is home to a golf course known as Lakeside Golf Club, which features 18 holes.
The presence of a local golf course is extremely beneficial for any town since it increases the region's desirability as a location for businesses, industries, and families searching for lovely houses in the surrounding area.
This is only one illustration of how having a lot of open space supports the development of new jobs and the expansion of the economy. In addition, Chestermere assures that the town's natural beauty will be preserved via the construction of a golf course.
Is It The Best Choice For You To Live In Chestermere?
People who like an active lifestyle and having a wide variety of activities for entertainment will find that Chestermere is the perfect place to call home.
It doesn't matter if you want to spend your weekends playing in the snow or swimming in the lake; if you want to have a family, here is the ideal location for you to do it.
Living in Chestermere will provide you with an easy, laid-back lifestyle along with an abundance of fun and friends.
It is possible to live in a sleepy little community that is nonetheless within commuting distance of Calgary. Therefore, if you're seeking a property that you can settle down in and call home, this may be it!