Rideau Park Neighborhood Guide
Tucked away in southwest Calgary is the hidden gem of Rideau Park. This leafy, peaceful neighbourhood is well-loved by long-time residents and newcomers alike for its serenity, strong sense of community, and central location.
If you're looking for a place to call home that feels like a true neighbourhood, Rideau Park is definitely worth a visit. Here's your guide to all things Rideau Park.
Early Days of Rideau Park
Rideau Park was originally part of the ElbowPark Annex, which was annexed to the City of Calgary in 1910.
The neighbourhood got its name from the nearby street, Rideau Road, which in turn was named for the streets in Ottawa where the Governor General's residence is located. In 1914, construction began on the Rideau Heights subdivision, and the first homes were built in 1915.
The subdivision was designed by Maurice Yelland Brown, who also designed neighbouring Elboya and Britannia.
Brown's intention was to create a series of "islands" connected by parkland, and this can still be seen in Rideau Park today. The subdivision includes several unique features such as cul-de-sacs and crescents, which add to the neighbourhood's charm.
Rideau Park Today
Nowadays, Rideau Park is a thriving neighbourhood with a diverse population. It's particularly popular with families thanks to its many green spaces and proximity to excellent schools such as William Reid Bilingual Elementary School and Central Memorial High School.
There are also plenty of opportunities for recreation and leisure in Rideau Park. The neighbourhood boundaries include both the Elbow River and Sandy Beach, making it easy to enjoy the great outdoors right at home. Popular parks in the area include Sandy Beach Park, Stanley Jones Bird Sanctuary, and Riverdale Dog Park – perfect for furry friends!
If you need to head downtown for work or play, you're only a 10-minute drive from all the action. There's no shortage of things to do in Calgary's city center, from shopping and dining to arts and culture. Plus, there are plenty of public transit options if you prefer not to drive.
12 Things You Must Know About Rideau Park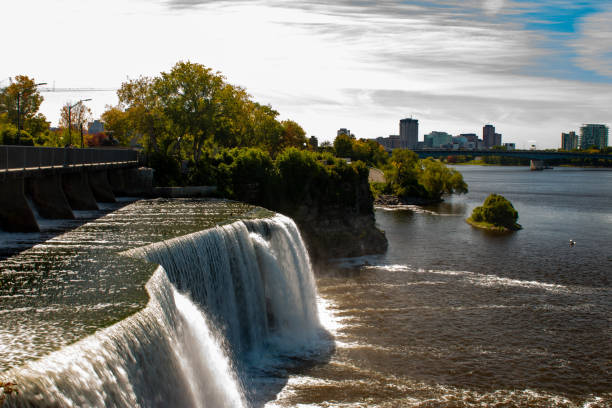 Now that you know a little more about Rideau Park, here are a few insider things to help you make the most of living in this wonderful neighbourhood.
Location
Rideau Park is located in the southwest of Calgary, Alberta. It is bounded by 14th Street SW to the north, 25th Avenue SW to the east, Macleod Trail to the south, and Heritage Drive to the west.
History
Rideau Park was established in 1910 and named after Colonel John By, who built the Rideau Canal in Ottawa. The community was annexed to the City of Calgary in 1963.
Demographics
As of the 2016 census, Rideau Park had a population of 1,716. The median age of residents was 47.8 years old and 68.9% of residents were born in Canada. The majority of residents (85%) identify as being part of the white demographic.
Housing
The majority of homes in Rideau Park are single-family detached houses (70%), with a small number of semi-detached houses (10%) and row houses (5%). The average home price in Rideau Park is $1,325,000.
Education
There are no schools located within the boundaries of Rideau Park, however, there are a number of schools located nearby including William Reid Elementary School, Earl Grey Junior High School, and Central Memorial High School.
Parks and Recreation
Rideau Park is home to a number of parks including Rideau Park itself, which features a playground, sports fields, and picnic areas. Other parks in the area include Southland Dog Park and Sandy Beach Park.
Shopping and Dining
There are a number of shopping and dining options available in Rideau Park including 4th Street SW which features a variety of restaurants, cafes, and shops. There is also a grocery store located on 14th Street SW.
Transportation
Rideau Park is accessible by Calgary Transit buses routes 14 and 24. Route 14 provides service to downtown Calgary while route 24 provides service to Mount Royal University and Rockyview General Hospital.
Community Resources
Community resources available in Rideau Park include the Calgary Public Library (Central Branch), Alberta Health Services - South Health Campus, and Rockyview General Hospital
Rideau Park Schools
There are several schools located within the Rideau Park neighbourhood boundaries, including:
William Reid Bilingual Elementary School

Central Memorial High School

Elboya Bilingual Junior High School

St. Augustine Elementary/Junior High School

Rideau Park School (preschool to Grade 6)

Henry Wise Wood High School
Rideau Park Real Estate
If you're thinking of making Rideau Park your home, you'll be happy to know that the real estate market is quite diverse.
There are a variety of housing options available, from single-family homes and townhouses to apartments and condos. Prices range from relatively affordable to quite luxurious, so there's something to suit every budget.
Rideau Park Community Association
The Rideau Park Community Association is a great resource for residents. The Association organizes a variety of events and programs throughout the year, including an annual community garage sale, Halloween party, and Santa Claus Parade.
They also offer subsidies for residents who want to join local sports teams. For more information, visit their website or give them a call at 403-244-4111.
The Reasons To Live In Rideau Park
If you are looking for a great neighbourhood to live in, you should definitely consider Rideau Park. Here are some of the reasons why Rideau Park is such a great place to call home.
Location, Location, Location
Rideau Park is located in central Edmonton, which means that it is close to all of the city's major amenities. If you work downtown, you can easily commute to and from work.
And if you like to go out on the weekends, you'll never be at a loss for things to do. There are plenty of restaurants, bars, and clubs within a short driving distance of Rideau Park.
Rideau Park is also a great place to raise a family. If you have young children, they will be able to attend some of the best schools in the city. And if you have teenagers, they will love being so close to all of the action.
Amenities
Rideau Park has everything you need to live a comfortable life. There are grocery stores, banks, and other businesses nearby. And if you ever need anything, Downtown Edmonton is just a short drive away.
Rideau Park is also home to several parks and green spaces. If you like spending time outdoors, you'll love living in Rideau Park. Take a stroll through one of the many parks or have a picnic with your friends and family.
Transportation Facility
The location of a specific neighbourhood inside one of Calgary's four quadrants is represented in the neighbourhood's street address, which concludes with either NW, SW, SE, or NE, depending on which quadrant the neighbourhood is located in.
Avenues usually run in an east-west direction, whereas streets run in a north-south direction. Once you get used to this system, getting about Calgary is going to be quite simple and straightforward for you.
The public transportation network in Calgary is not nearly as well developed as those in other major Canadian cities of comparable size.
When deciding which neighbourhoods in Calgary are the most suitable for your requirements, the closeness of your place of employment may be a more crucial factor to take into account than it is in some other cities. This does not imply, however, that you are required to have a vehicle here.
Using public transportation to traverse between quadrants, such as from the southwest to the northeast, might be challenging.
If you have to drive during rush hour and have to cross bridges, you will likely encounter high traffic congestion. When picking a new location to call home in Calgary, the morning and evening commute shouldn't be the only factor you take into account. There are various neighbourhoods to choose from.
Recreational Opportunities
The neighbourhood features many tennis and sports courts, parks, and walks, such as the well-known Sandy Beach Park and River Park. The choices for recreation are virtually limitless.
In this area, locals spend their time strolling, riding, and floating along the Rideau River in the summer. The nearby Elbow Park and the Glencoe Club live up to their reputations by providing some of the finest sports and leisure facilities in the area, as well as immaculate greens that are ideal for golf enthusiasts.
Conclusion
Rideau Park is a beautiful Calgary neighbourhood with a rich history and a strong sense of community. It's perfect for families or anyone who loves spending time outdoors, thanks to its many parks and proximity to the Elbow River.
We are sure that you will have a great experience living in the Rideau Park neighbourhood. You should explore the neighbourhood if you are planning to move in there.
If you're looking for a place to call home that feels like a true neighbourhood, make sure to add Rideau Park to your list. It will be a great addition.