Located in the southwest quadrant of Calgary is the neighbourhood of Bel-Aire. This small enclave is bordered to the north and south by 24th street and 26th street respectively, to the east by Macleod Trail, and to the west by Elbow drive.
Bel-Aire was annexed to the city in 1956 and was established as a neighbourhood in 1967. It is a well-established community with a mix of older homes as well as newer construction. The average home price in Bel-Aire is just over $1 million.
This guide will explore all that Bel-Aire has to offer residents and visitors alike. From its history and demographics to its attractions and amenities, we'll cover everything you need to know about this great Calgary neighbourhood.
History and Demographics
Bel-Aire was annexed by the City of Calgary in 1956 but wasn't established as an official neighbourhood until 1967. Prior to that, it was mostly farmland with a few scattered houses.
Today, Bel-Aire is a well-established community with a population of 1,062 (according to the 2016 Census). The average age of residents is 46 years old and the majority are married couples with children (61%).
The average household income in Bel-Aire is $193,827 (according to Statistics Canada, 2016 Census) which is significantly higher than both the citywide average of $111,016 and the national average of $70,336.
Unsurprisingly, given its high incomes and property values, Bel-Aire has one of the lowest crime rates in Calgary. In fact, it's ranked as the 4th safest neighbourhood in the city with a crime rate that's 60% lower than the city average.
Attractions and Amenities
There are plenty of things to do in Bel-Aire whether you're a resident or just visiting. For starters, there's plenty of green space perfect for picnics or walks with your furry friend. Our personal favourite is Belle Park which features a playground, tennis courts, and a picturesque pond.
If you're looking for something more active, try your hand at golf at one of Calgary's top courses – Earl Grey Golf Club. This private club features an 18-hole course designed by Stanley Thompson himself – one of Canada's most renowned golf course architects.
Non-members are welcome to play on Mondays (with advance tee time booking) but are warned – it's not cheap! Green fees start at $165 per round during peak season.
Housing in Bel-Aire
Bel-Aire is an exclusive neighbourhood, and that exclusivity comes at a price. The average home in Bel-Aire is valued at over $2 million, making it one of the most expensive communities in Calgary. However, for those who can afford it, Bel-Aire offers a luxurious lifestyle that is unmatched anywhere else in the city.
There are a variety of housing options available in Bel-Aire, from single-family homes to executive estates. No matter what your budget or needs, there is sure to be a home in Bel-Aire that is perfect for you.
The Neighborhood Lifestyle
Bel-Aire is more than just a place to live; it's a lifestyle. The community is filled with amenities that are designed to make life easy and enjoyable. From world-class shopping and dining to top-rated schools and recreation facilities, everything you need is right at your fingertips in Bel-Aire.
In addition to all of the great amenities, Bel-Aire also offers its residents a sense of community that is hard to find in other parts of the city. Whether you're taking a stroll through one of the many parks or attending one of the many community events, you'll quickly feel like you belong in Bel-Aire.
Schools and Education
The area is home to two schools operated by the Calgary Board of Education. One is Bel-Aire Elementary School, which offers programs for students in kindergarten through fifth grade.
The other is a public high school, Henry Wise wood Junior High School. Both schools are highly rated and offer a variety of extracurricular activities for students.
In addition to academic excellence, both schools place a strong emphasis on character development and citizenship. As a result, graduates of both Bel-Aire Elementary and Henry Wise wood Junior High are well-prepared for success in college and beyond.
Why Home Prices in Bel-Aire is on the Rise?
If you're thinking of buying a home in the near future, you might want to consider Bel-Aire. This upscale neighbourhood is located in Calgary's southwest quadrant and is home to some of the city's most expensive real estate.
Home prices in Bel-Aire have been on the rise for the past few years. The average price of a home in Bel-Aire is now $750,000, up from $500,000 just five years ago. The increase in prices is due to a number of factors, including the strong economy and low-interest rates.
Demand for housing in Bel-Aire has also been growing steadily, as more and more people are attracted to the area's close proximity to downtown and its abundance of amenities.
But, what's driving up prices in Bel-Aire? Let's take a look.
The Location
Bel-Aire is an affluent neighbourhood that's close to downtown and many of Calgary's top amenities. It's also situated next to the Elbow River, which makes it a desirable place to live for nature lovers and outdoor enthusiasts.
Not to mention, there are some stunning homes in Bel-Aire with river views. It's no wonder that the location is one of the main reasons why prices are on the rise.
The Low Inventory
Another reason why prices are going up is that there is simply not enough inventory to meet the demand. The number of homes for sale in Bel-Aire has been steadily declining over the past few years, while the number of buyers has remained steady.
This imbalance is causing prices to increase as buyers compete for the limited number of properties that are available.
The High Demand
Speaking of buyers, there is definitely no shortage of people who want to live in Bel-Aire. The neighbourhood is popular with families, young professionals, and empty nesters who are looking for a luxurious place to call home. With so much demand and not enough homes to go around, prices are inevitably going to continue to rise.
5 Reasons to Move to Bel-Aire Calgary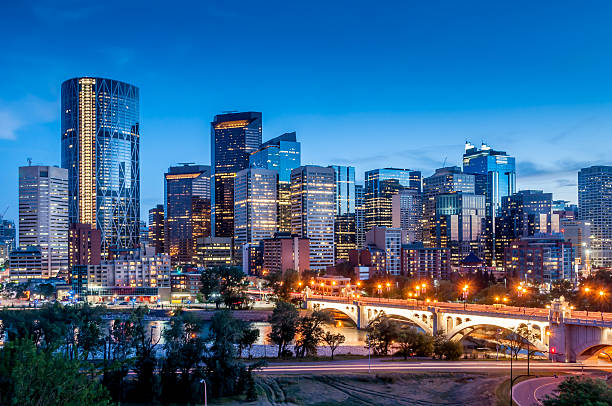 Thinking of making a move to Calgary? You're not alone. The city has been growing by leaps and bounds in recent years, thanks in part to a strong economy and an influx of new residents from all over Canada.
With so many great neighbourhoods to choose from, it can be tough to decide where to put down roots. If you're looking for a tranquil oasis that's close to all the action, Bel-Aire just might be the perfect place for you. Here are 5 reasons why:
It's a great place for families
If you're looking for a safe and friendly neighbourhood to raise your kids, look no further than Bel-Aire. The community is filled with young families, and there are plenty of family-oriented activities and amenities nearby, including parks, playgrounds, and schools.
It's close to downtown
One of the best things about living in Bel-Aire is that you're just a short drive or bus ride away from all the action downtown. Whether you're looking for some good eats, nightlife, or shopping, you'll find it all just a stone's throw from your front door.
The homes are beautiful
From stately mansions to cozy bungalows, there's something for everyone in Bel-Aire. And with plenty of green space and tree-lined streets, the neighbourhood has a warm and welcoming feeling that's hard to beat.
It's peaceful and quiet
If you're looking for a break from the hustle and bustle of city life, Bel-Aire is the perfect place to call home.
The neighbourhood is known for its tranquillity and serenity, making it the perfect place to relax and unwind after a long day at work or play.
Visitors can enjoy the city's vibrant nightlife, shop at the many boutique stores, or take in the sights of the city from atop one of its many hills.
Bel-Aire is also home to a number of museums and galleries, making it the perfect place to explore California's rich cultural heritage. No matter what your interests are, Bel-Aire has something to offer everyone.
It's an excellent investment opportunity
Thanks in part to its desirable location and abundance of amenities, Bel-Aire real estate has been on the rise in recent years—and shows no signs of slowing down anytime soon. If you're thinking about investing in Calgary real estate, this is definitely a neighbourhood worth considering.
Conclusion
Bel-Aire is an affluent neighbourhood located in southwest Calgary. It's known for its high incomes, low crime rate, and abundance of amenities and attractions. Whether you're looking for a place to raise a family, retire in style, or invest in real estate, Bel-Aire is an excellent choice.
So, if you're thinking about moving to Calgary, be sure to include this coveted neighbourhood on your list of potential destinations.
Among the other neighbourhood of Calgary, Bel-Aire is the one with the most utilities and investment opportunities for buyers in the area. You can have Bel-Aire on your list.